United Way brings to the community the Dolly Parton Imagination Library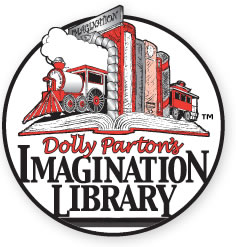 It is critical to help young children be ready for school by working with them to develop their reading and learning skills. This is why, since March 2015, our team has enrolled thousands of area children from birth to the age 5 into the Dolly Parton Imagination Library.
This program fosters a love of reading among children and their families by providing them with the gift of a specially selected book each month. Children receive an age-appropriate book by mail each month until the age of 5 years old. Children get so excited when these books arrive. Children receive these books regardless of income.
As of June 2022, more than 2,220 children are able to receive books each month. Setting up over 2,000 children to graduate from the program after reaching their fifth birthday.
If you would like to enroll your children, click here for registration forms or email Erica James here.
Questions? Please contact Erica James, 276.638.3946 x113.
If you would like to sponsor a child for a year to help offset the mailing of the books, the contribution is just $27. Click here to make your donation today.