Bridges Out of Poverty
If you didn't grow up in poverty, you may be unaware of the "hidden rules" that govern many aspects of life for the poor. People in poverty are often in survival mode, and support sytstems taken for granted in the middle class and wealth are largely nonexistent. 
Bridges Out of Poverty is a uniquely powerful tool based in part of Dr. Ruby K. Payne's myth-shattering A Framework for Understanding Poverty. Bridges is not a program. It is a research-based framework of concepts, tools, and resources that equip people to reconsider how they approach their clients, their constituents, their neighbors, and their community.
To comprehensively address the issue of poverty, we must look at it through three lenses: Individual, Institutional, and Community. This Triple Lens approach provides a comprehensive perspective on how we as individuals, organizations, and communities can eliminate poverty.
United Way of Henry County & Martinsville serves as the hub of the Bridges Initiative in MHC helping to convene and coordinate the Bridges Implementation Team, local Bridges trainings, and the Bridges Out of Poverty Program, "Getting Ahead in a Just-Gettin-By World."
Getting Ahead in MHC
"Getting Ahead in a Just-Gettin'-By World" is a 17 session workshop series providing people motivated for change the tools and support necessary to 'Get Ahead' in today's world. Working in a group learning environment, participants, "investigators", will learn that money is only 1 of 11 resources used to define success including:
Financial
Emotional
Language
Mental/Cognitive
Social Capital (Connections)
Physical
Spiritual
Motivation/Persistence
Integrity/Trust
Relationships/Role Models
Knowledge of the 'Hidden' Rules
Investigators learn how these resources affect their lives, the lives of their family, and the community we live in. By examining the resources they have versus the resources they need, GA investigators will be able to create a personal plan, based on goals, to build a future story they choose. 
 
For information regarding Bridges Out of Poverty or Getting Ahead, contact Brandy Lawless at 276-403-5868 or blawless@smartbeginningsmhc.org.
Meet James...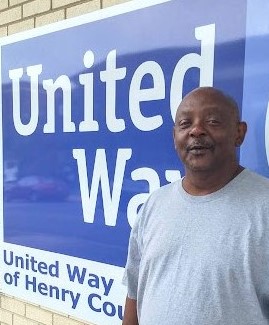 When you first meet James, his personality is captivating and it's easy to see he is intelligent. He always has a twinkle in his eye and a joke up his sleeve. He has also lived a life of instability, and in this own words, "total turmoil." It was in that turmoil that James was introduced to Bridges Out of Poverty, a philosophy that defines poverty as the extent to which an individual does without resources.
The Bridges program, 'Getting Ahead in a Just-Gettin'-By World,' equips particpants to investigate and develop their resources in 11 key areas. Throughout his 'Getting Ahead' class experience James faced many obstacles and through abstract thinking, resource connection, and perseverance, he was able to overcome those barriers one by one,  graduating from the 'Getting Ahead' class in October 2019. James continues building his resources as his life shifts toward a future story with more stability and peace.
"The United Way and the Getting Ahead Class has given me a new way to look at my community and life. It gave me the opportunity to see both ends of the economic scale and show me ways and means to get from one end to the other. It has been a great experience." - James E. Martin